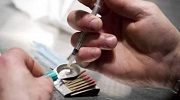 Steroids are synthetic drugs that closely resemble cortisol, a hormone that your adrenal glands produce naturally.
Steroids work by decreasing inflammation and reducing the activity of the immune system. Steroids are used to treat a variety of inflammatory diseases and conditions.
If you have a painful joint, for example from injury orarthritis, our Summit Urgent Care providers may offer you a joint injection of a steroid medicine. Steroids reduce inflammation and so can help reduce pain and swelling in your joint and allow it to move more easily.
Some short-acting steroids act quickly and may work for at least a week. Other, long-acting steroids may take about a week to start working, but their effects last for a few months. Sometimes a mixture of these may be used. Our healthcare providers will discuss which is the best option in your circumstances.
If you have a painful joint bothering you, come visit us at Summit Urgent Care to find relief. We offer in-house prescription meds and treat many illnesses and injuries. Just walk in our clinic 7 days a week, 365 days a year.
WHAT OUR PATIENTS SAY
Your services were great! Coming straight from the airport with breathing problems and bites all over me, I was quite uncomfortable. From the front desk to the provider, each person had a calming spirit. Even the instructions give were very direct concerning the asthma, yet welcoming. Thank you for being in business. Thank you for your service!
Gaylinn
I was very pleased with the professionalism of the staff and the facilities at the East Point location. I would definitely recommend this urgent care provider.
Lawrence
"It's such a pleasure knowing that this office is available when I need them. Every time I've been here the service has been excellent and quick. I really appreciate the service and care from everyone at office."
Cheryl
"It was a great first-time experience at an Urgent Care from beginning to end. I was pleasantly surprised and appreciate the warmness and professionalism of the entire staff."
Tameka
"Summit Urgent Care is the best thing that has happened to healthcare in a long time. It is like visiting a family doctor with the convenience and hours of emergency care. It is also as affordable as a family doctor if you don't have insurance. Very clean and short wait times."
Keith
Previous
Next
FOLLOW US ON
SOCIAL!

[instagram-feed]