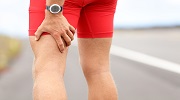 A muscle pull occurs when your muscle is overstretched or torn. This usually occurs as a result of fatigue, overuse, or improper use of a muscle.  Strains can happen in any muscle, but they are most common in your lower back, neck, shoulder, and hamstring, which is a muscle behind your thigh.
These strains can cause pain and may limit movement within affected muscle group. Mild-to-moderate strains can be successfully treated at home with ice, heat, anti-inflammatory medications.
Main symptoms of Muscle Strains
sudden onset of pain
soreness
limited range of movement
bruising or discoloration
swelling
muscle spasms
stiffness
weakness
Causes
Ana cute muscle pain is when your muscle tears suddenly and unexpectedly. Such tears can occur either from injuries or trauma. This can be due to :
non warming up properly before physical exercise
poor flexibility
poor conditioning
overexertion and fatigue
Avoid using your muscle for a few days, especially if movement causes an increase in pain. Too much rest can cause muscles to become weak, which can prolong the healing process. Contact doctor. Summiturgentcare365 can help you in case you need any help. Visit the clinic and get treated properly.
WHAT OUR PATIENTS SAY
Your services were great! Coming straight from the airport with breathing problems and bites all over me, I was quite uncomfortable. From the front desk to the provider, each person had a calming spirit. Even the instructions give were very direct concerning the asthma, yet welcoming. Thank you for being in business. Thank you for your service!
Gaylinn
I was very pleased with the professionalism of the staff and the facilities at the East Point location. I would definitely recommend this urgent care provider.
Lawrence
"It's such a pleasure knowing that this office is available when I need them. Every time I've been here the service has been excellent and quick. I really appreciate the service and care from everyone at office."
Cheryl
"It was a great first-time experience at an Urgent Care from beginning to end. I was pleasantly surprised and appreciate the warmness and professionalism of the entire staff."
Tameka
"Summit Urgent Care is the best thing that has happened to healthcare in a long time. It is like visiting a family doctor with the convenience and hours of emergency care. It is also as affordable as a family doctor if you don't have insurance. Very clean and short wait times."
Keith
Previous
Next
FOLLOW US ON
SOCIAL!

[instagram-feed]