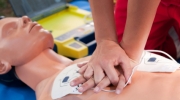 Summit Urgent Care offers training to your employees to become certified first
responders that will benefit the safety of your company. With an emphasis on
hands-on learning, our First Aid/CPR training give you the skills to save a life.
While a high-level medical professional is always the best recourse for a patient in
need, it is often the first responders who keep them in stable condition until help
arrives. CPR and First-Aid training allows average people to respond to a wide
assortment of common, everyday conditions making them an invaluable resource
for on-the-spot emergencies.
Our first aid training will teach you how to respond to common first aid
emergencies, including burns, cuts, head, neck and back injuries, and more.
Our CPR training will teach you how to respond to cardiac and breathing
emergencies in adults.
Come in for a visit with us today. Summit Urgent Care is convenient and available
without an appointment, 7 days a week. 365 Days a Year! We have locations in
East Point, Newnan, East Cobb, Peachtree City, and Fayetteville, GA. Servicing the
nearby cities of Sharpsburg, Marietta, Roswell, and College Park. Every member of
our team has the same patient focus and is dedicated to delivering the best
possible care.