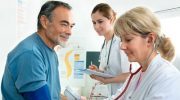 We all know that it's hard to find time to visit a doctor for a regular check-up between work, family and extracurricular activities. This is where our Annual Checkups or Biometric Screenings can make your life easier. Just Walk In.
---
Identify Health Risks
Earn Rewards With Your Health Insurance*
No Need for An Appointment
Short Wait Times
Extended Hours
Don't Procrastinate with Your Health!
According to the Partnership to Fight Chronic Disease, as many as 100,000 lives in the USA alone could be saved every year simply by increasing the use of common health checkups and prevention. Annual Checkups and Biometric Screenings easily detect the two most common chronic conditions – diabetes and high blood pressure – before they cause serious health issues.
A Biometric screening is a series of health tests intended to identify your medical risks and health issues. In a short time, we can assess a wide range of health screenings and deliver real-time results. Biometric screenings can also provide you the relevant information and data to utilize intervention strategies and preventive measures to reduce your risks.
After the results are in, you'll receive a report with your testing results that you can submit to your insurance.
Some of the Essential Factors Associated with a Biometric Screening
Blood Pressure
Weight Measurement
Body Max Index
Health Measurement
Total Cholesterol
Triglycerides Level
Waist Circumference
HDL and LDL Cholesterol Level
Fasting Glucose/ Blood Sugar
Summit Urgent Care often performs Biometric Screenings and Annual Checkups as a part of a wellness program that includes a health risk assessment (HRA) questionnaire and a consultation. We can work with you and your insurance provider to get you everything you need.
If you also want to organize an onsite biometric screening for your employees, drop us a line at Summit Occupational Medicine.
---
Summit Urgent Care is available without an appointment, 7 days a week, 365 days a year! We have locations in East Point, Newnan, and Fayetteville, Georgia. Every member of our team is dedicated to delivering the best possible care.
READ OUR PATIENT REVIEWS (UNEDITED)
*This depends on your insurance provider/plan.