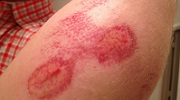 Skin is the largest organ of the human body. It consists of two primary layers – the epidermis and the dermis.
Abrasion is when the surface layers of the skin (epidermis) are broken. Sensitive zones (like knees, lower legs and elbows) are more inclined to scraped spots than thicker, more cushioned regions. The scratched skin of a scraped spot can contain particles of dirt or other contaminates that can cause infection.
If the abrasion is bleeding heavily or extremely painful, come see us at Summit Urgent Care and we'll help clean and bandage your wound properly. In the case of a life-threatening emergency please visit the Emergency Room or call 9-1-1.
Treatment for cuts and scraped areas
Some injuries are too extensive for the body to seal without help. Your provider will choose whether or not an injury requires stitches, staples or skin glue (dermabond).
Come see us immediately if the site begins to deliver discharge, swell or radiate an unpleasant smell.
When you need to see a doctor NOW for lacerations or other injuries, Summit Urgent Care is convenient and available without an appointment, 7 days a week. 365 Days a Year! We have locations in East Point, Newnan, and Fayetteville, GA. Servicing the nearby cities of Sharpsburg, Peachtree City, College Park. Every member of our team, from board-certified doctors to our customer service representatives have the same patient focus and are dedicated to delivering the best possible care.
WHAT OUR PATIENTS SAY
Your services were great! Coming straight from the airport with breathing problems and bites all over me, I was quite uncomfortable. From the front desk to the provider, each person had a calming spirit. Even the instructions give were very direct concerning the asthma, yet welcoming. Thank you for being in business. Thank you for your service!
Gaylinn
I was very pleased with the professionalism of the staff and the facilities at the East Point location. I would definitely recommend this urgent care provider.
Lawrence
"It's such a pleasure knowing that this office is available when I need them. Every time I've been here the service has been excellent and quick. I really appreciate the service and care from everyone at office."
Cheryl
"It was a great first-time experience at an Urgent Care from beginning to end. I was pleasantly surprised and appreciate the warmness and professionalism of the entire staff."
Tameka
"Summit Urgent Care is the best thing that has happened to healthcare in a long time. It is like visiting a family doctor with the convenience and hours of emergency care. It is also as affordable as a family doctor if you don't have insurance. Very clean and short wait times."
Keith
Previous
Next
FOLLOW US ON
SOCIAL!

[instagram-feed]